Ergonomics
Testing
Belmil schoolbags were tested by doctors and physiotherapists with the assistance of 12 children. The factors examined were:
anatomical build-up,
friendly body-fitting and ease of wearing.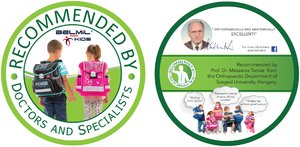 PARTICIPANTS
Participants (8 girls and 4 boys) were pupils of primary school (aged 6-10), except for a 12-year-old boy who is considered as over-aged. Their height ranged between 112 and 145 cm, whereas their weight was between 21 and 37 kg. The weight load varied from 4 to 7 kg.
According to the replies the following rating can be concluded:
excellent: in 9 cases;
good: in 2 cases;
satisfactory: 1 case (in the case of the 12-year-old boy is over-aged)

 RESULTS 
Belmil schoolbags meet the design requirements as well as they are outstanding in every respect – anatomically, biomechanically and orthopedically.
 
Their forms reduce the burden on shoulders and backbone; the child did not find the carried load heavy. They felt that the shoulder-straps and the back support were comfortable to wear. The effect of belt-strap proved to be beneficial as it hindered the bag from moving all the time whereupon the load distribution on the lumbar vertebra is optimal. The character that the back part of the schoolbag can be adjusted atseveral points has also been emphasised that helps the schoolbag to be fitted completely and perfectly to the person.
During testing, the Belmil schoolbag did not change the child's posture in 11 cases, while in one case it improved the pupil's loose build. The examination was carried out by Prof. Tamás Mészáros MD, university professor of the Orthopaedic Department of Szeged University.